This new trouser trend had passed me by until earlier this week when I saw a girl on the train wearing a black pair and looking really effortlessly cool, well apart from the fact that in certain light you could see straight through the fabric and could tell she wasn't wearing any knickers...anyway...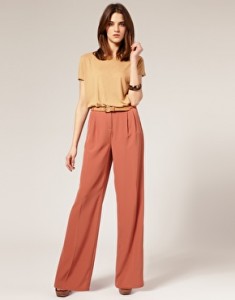 So, this got me thinking about Palazzo Pants, and now I don't think my mind will rest until I've tried a pair on and found out if they look utterly ridiculous or crazy fabulous on me (I'm thinking ridiculous right now). They just look super comfy and would be a great way for me to wear coloured trousers as discussed last week, and depending on the cut could be a good work-wear trouser.
I'm not completely sure what you wear them with (knickers for one, I guess), t shirts? Blouses? Vests? They could become a money drain for my wardrobe if I purchased a pair and I wanted to buy various tops to accompany them.
This pair is from ASOS (photo c/o
myfashionlife.com
) and also come in black which I think would be a great way to look smart in the office, as I tend to go for wide leg trousers anyway.
As usual, here are a few of my favourite palazzo pant looks that I've been lusting over this week:
Ooh, I just love this hat and the pattern on the trousers is really cute but simple. Love it.
Seriously swooning over every aspect of this outfit, the pants, the scarf and my gosh THAT bag. SWOON.
I can't resist a polka dot, can you? Stunning. And those sunglasses? To die for.
What are your thoughts on Palazzo Pants? Do you think they're just a fad or will they be around for a while? Share your thoughts in the comments.